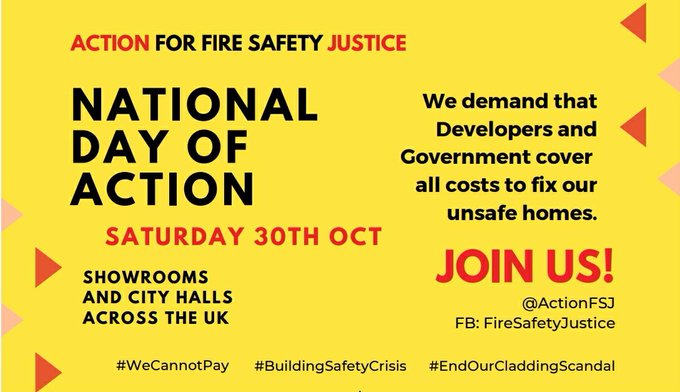 SATURDAY, OCTOBER 30, 2021 AT 11 AM
Event by Action for Fire Safety Justice A sales office or city hall near you!
Public · Anyone on or off Facebook
Join us for our next national day of local protests, to demand that the Government make Developers pay to fix the Fire Safety Crisis!Leaseholders and tenants are trapped in unsafe homes, facing bankruptcy and eviction because our homes weren't built to be safe.
Meanwhile, developers get off scot free and continue to make huge profits.Join us as we fight for our rights and demand change. Bring your friends, family and neighbours and let's make a noise!
Saturday 30 October 2021, 11:30am – 12:30pm Building Safety Crisis Day of Action
Online Rally
https://www.facebook.com/events/680536556257607 We demand that the Government makes Developers pay! The costs to fix fire safety issues should not fall on tenants or leaseholders. Join Action for Fire Safety Justice and supporters for a rally featuring outside broadcasts from protests as part of the national day of action.
Speakers include:
Chloe Waite, Action for Fire Safety Justice
Tanya Murat, Homes For All
Karim Mussilhy, Grenfell United
Wilf Sullivan, TUC
Jenni Garratt, End Our Cladding Scandal
Chair, Moyra Samuels, Grenfell Campaigner
Protests to be featured at the online rally include:
⁕ London City Hall
⁕ Abbey Quays Barking
⁕ Upton Park
⁕ Ipswich Waterfront
⁕ Milton Keynes
⁕ Bristol City Hall
⁕ Strasbourg European Court of Human Rights
Details of all the above in-person protests:
https://buildingsafetycrisis.org/protests/
Action for Fire Safety Justice:
https://www.facebook.com/FireSafetyJustice
This rally will be live on Facebook and YouTube